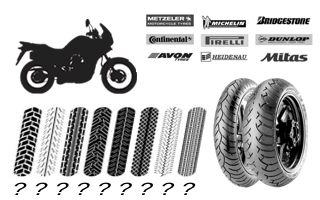 Tiedot Tämä sivu on tarkoitettu tiedoksi vain. Olet täysin Vastuuvapaus myNETmoto siitä mitään vastuuta suhteessa, tai seurauksena, vaateet itsenne ja / tai kolmannen osapuolen mahdollisista vahingoista jälkeen asentaminen renkaita ei sallita.
DUNLOP ROADSMART II


Dunlop's new RoadSmart II provides a new benchmark of balanced all-round excellence for demanding riders. A premium sport touring tyre, combining the all-round attributes required, together with improved mileage. Providing the freedom for adve [...]
(sis. ALV ilman. laivaus)
BRIDGESTONE BT 45


This all-round sports bias tyre is for imported and re-imported bikes and offers the same basic performance as the BT-45. Ideal for the rider who seeks overall high-speed performance.
BRIDGESTONE TRAIL WING


There are different pattern of the Trail Wing from Bridgestone TW40 / TW301 / TW302 TW203 / TW204 / TW101 / TW152 /
(sis. ALV ilman. laivaus)